Cape Town: enjoy some of the best wildlife in Africa
The choice is yours when it comes to wildlife in Africa and especially in Cape Town! Do you prefer to see African penguins, whales or lions? Well, you can see them all in and around Cape Town, if you want to! Here, you can unique experiences with the wild animals in various beautiful reserves or rehabilitation centers.
1 African Penguins,Simon's town Boulders Beach (30min drive)

These lovely penguins are not common in the wildlife in Africa but you can find them in Cape Town and even swim with them at Simon's town Boulders Beach. , their home and breeding site. The beach is the perfect spot to have a nice swim in prestine clear water amongst the beautiful Boulders rocks. Have you ever swum with penguins? Now you'll be able to say 'Yes I did!' The penguins are right here with you while you're swimming!
It happened to me that they actually swam in between my legs! This is a special moment to remember for ever!
Do you know that when a male and female penguins choose each either it's for the rest of their life?! Ouah, we also have to learn a lot from them! ;-)

If you are keen on seeing more penguins, there is another place where you could also see them called Stony Point in Betty's bay. Turn off the R44 into Porter Drive at the entrance to Betty's Bay on the Cape Town side, then follow the brown signboards.
2 Touch cheetahs, Stellenbosch (30min drive)

Cheetahs are definitely part of the wildlife in Africa and you can even touch them at Spier. The great thing when you live in a country such as South Africa with wildlife at your door steps, you get to learn a lot about cheetahs. and other animals.
However, if you are interested in cheetahs and other wild cats I can only recommend you, even if it's 5 hours drive, to go to...
3 Tenikwa wildlife awareness center, Plettenberg Bay (5hours drive)
Tenikwa
is a magical center! What an experience! My husband and I've done the walk with the cheetahs and the wild cats tour. And you should also do both!

The cheetah walk
It was 7h30 when we entered the enclosure where the cheetahs were staying, fully awake! It was raining and cheetahs love this weather, it gives them lots of energy.
They were running along the other enclosure where more cheetahs were staying! Gosh! You should hear the noise it makes, you hear and see how quick they can run in less than a second!
The walk was so informative about cheetah facts . It's a great opportunity to understand how they instinctivey live and react to certain situations...What you can't really do it in a reserve where you'll be already lucky to see one as they normally hide very well.


The wild cats tour

During this 1 hour tour you'll do something that you'll probably be able to do it only once in your lifetime! Where would you be able to enter pens where you'll see and touch caracals, servals, cheetahs?? And even see a leopard and wild cats?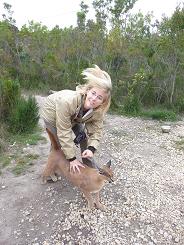 4 Drakenstein Lion Park, Paarl (40min drive)

Is there anything more cutter than a little smoochy cub?!!! When people dream of the wildlife in Africa, they actually would also like to be able to interact with it and understand it better. Well, this park is going to make you understand how tough life can be for wild lions. They rescue lions in distress from all over Africa. You can even sleep in this park, if you like! It's a sanctuary for captive born lions.
Did you know that lions can run up to 60kmph but they are not good on a long distance and need to be fairly close to their faster quarries and there are so many more interesting lion facts to know!
Over the past years, I took interesting lion pictures and each time I look at them, my heart is beating stronger because it reminds me specific wonderful moments.

5 Elephant interactions, Oudtshoorn (5hours drive)

Buffelsdrift has one the most loved animal of wildlife in Africa: elephants!They offer lots of various activities such as elephant walk or bush safari. We choose to do the elephant feeding. We learnt a lot about elephants who are one of the Big Five .
Did you know that if you hurt an elephant once, he will remember you for the rest of his life?!It was so interesting and so special to touch these very cute baby elephants. What's also amazing to do is an elephant back safari or a baby elephant walk.



6 Right Whale tour, Hermanus (1h30 drive)

It's as funny to watch African penguins as impressive to watch whales! I have a lot of respect for these mammoth mammals! They are amazing animals to watch. When you are lucky to live in a country where they come every years for a long period, you feel close to them in a way and get to learn a lot about whales.


7 Birds of Eden, Plettenberg Bay (5hours drive)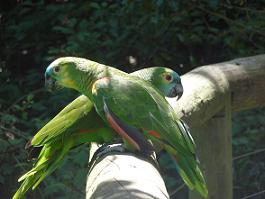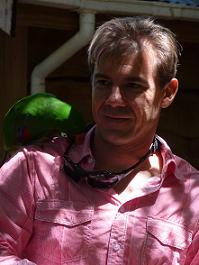 Birds of Eden allows you to experiment an interaction with birds that you rarely have in the wildlife in Africa...In the World's largest dome live approximately 3,000 birds, comprising over 220 species!
Frederic (my husband) and I really had a great time, crossing bridges, observing the birds, listening to their songs and the sound of waterfalls... And we both even made friends!

7 Two Oceans Aquarium, V&A Cape Town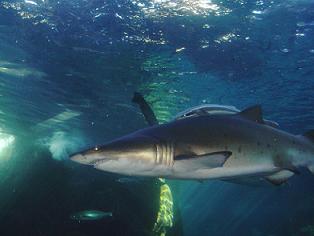 You can easily spend half a day at the aquarium house observing the 300 marine species!! When I miss diving at sea because the water is too cold, I love going there and have a feel of what's going on under water.
If you didn't get a chance to see African penguins in their natural environment, you'll also be able to see them here.
Also, don't miss the seals playing underwater or the feeding of sharks or . You'll find the time to see that on their website.


8 Squirrel feeding, Company Gardens Cape Town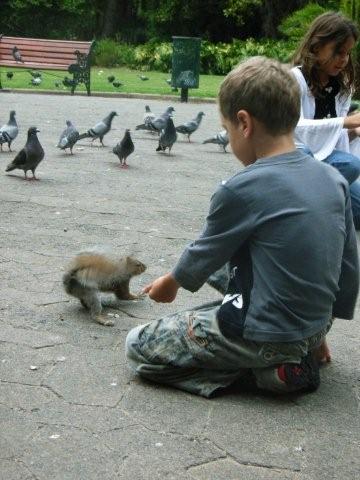 Well, we often forget this little animal which is also part of the wildlife in Africa: the squirrel! There are plenty of beautiful squirrels at the Company Gardens, Queen Victoria str, Cape Town. Bring some chestnuts and you'll have plenty of them eating in your hand!


9 Monkey town, Somerset West (45min drive)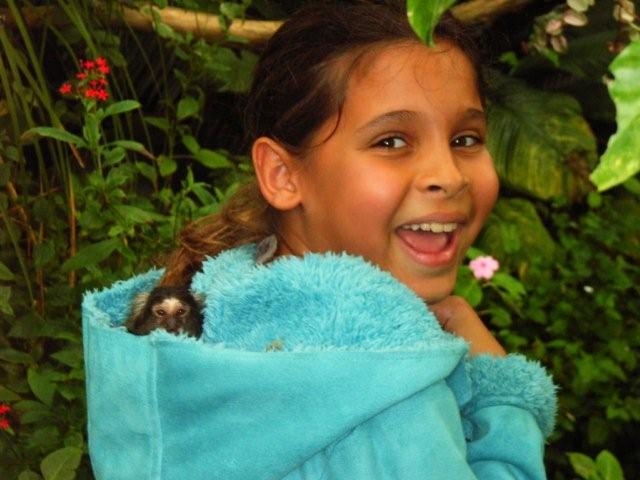 It's around 40 min drive from Cape Town but your kids are going to love it! There are 230 individual monkeys including chimpanzees in Monkey town and you can even touch tame monkeys, just check the time on the website.
In the Karoo (within 4 hours drive from Cape Town), there are plenty of places to see and enjoy animals.


10 Ostrich farms, Oudtshoorn (5hours drive)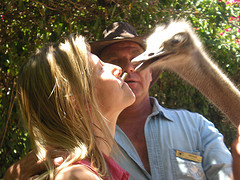 When it comes to ostrich experience in an ostrich farm, I particularly like to recommend Cango ranch in Oudtshoorn. Their ostrich tour is very informative and you'll even be able to ride an ostrich! This is wildlife in Africa!
Whenever I can, I love taking ostrich pictures!


11 Cango wildlife Range, Oudtshoorn (5hours drive)

Cango wildlife range is a nice park to improve your knowledge about crocodiles, lions, tigers and other wildlife in Africa. You can even touch and cuddle cheetah cubs! And try... to touch the smallest kangoroos in the world! Good luck! They run so quick! If you manage to do so, please send me a picture!
From Wildlife in Africa to Voila CapeTown