African Big Five game in Cape Town
The term African Big Five game refers to the 5 animals who were the most difficult ones to hunt on foot in Africa (fortunately it's not allowed to hunt them anymore)and they are also amongst the most dangerous mammals.
They are the symbols of South Africa. They are represented on the South African notes: the rhinoceros on the R10, the African elephant on the R20, the lion on the R50, the Cape buffalo on the R100 and the Leopards on the R200.
Actually, we could add 2 more animals to the Big 5: the Shark and the Whale. Some places such as Addo Elephant Park claim that they have the Big Seven and they are actually right to a certain extent. You just need to be there at the right season for whale watching. Now, if you are eager to see the African Big Five within reach of Cape Town, I advise you to go to Fairy Glen Private Game Reserve which is 1 hour drive from Cape Town only! I advise you to do the two-hour guided bushwalk safari to do something unique.
There are more parks where you could go around Cape Town and a bit further where you'll be able to see the African Big Five.

Otherwise, you can see some of them individually in different reserves and parks.
---
THE ELEPHANT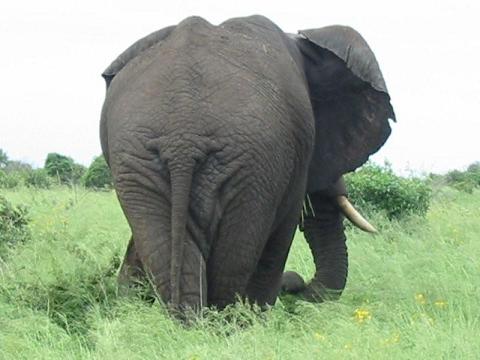 Addo Elephant Park (5hours drive) has 450 elephants and it's probably the best place to see wild elephants in their habitat.

In other parks, you could also have fantastic experiences such as touching and feeding baby elephants (cf photo) or enjoying a baby elephant walk.

---
THE LION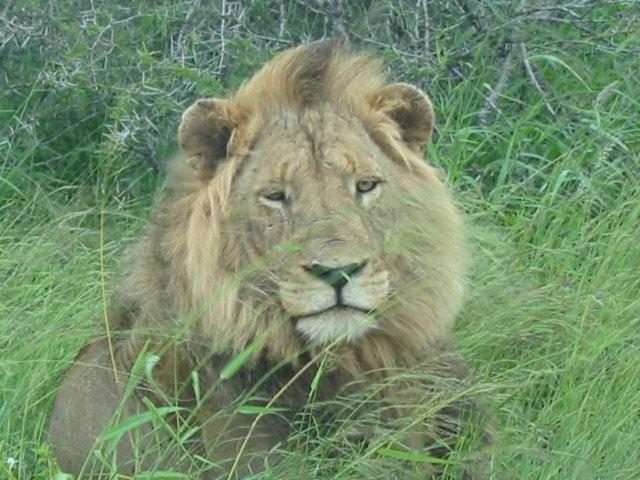 Learn about this powerful predator in Drakenstein Lion Park, Paarl (40min drive).

I have learnt a lot about lion facts along the way and I enjoyed and still enjoy taking lion pictures whenever I have the opportunity which does not happen every mornings!

---
THE BUFFALO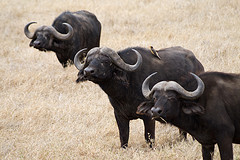 Once, I have been to Phinda reserve and during a night game drive, we had to cross a bridge and on the other side there was a huge group of buffalos. I could hear them breathing and we could see with the headlights, their breathe smoke coming out of their nasals. It was so impressive especially when you know that is unpredictable and so highly dangerous to humans!

---
THE RHINOCEROS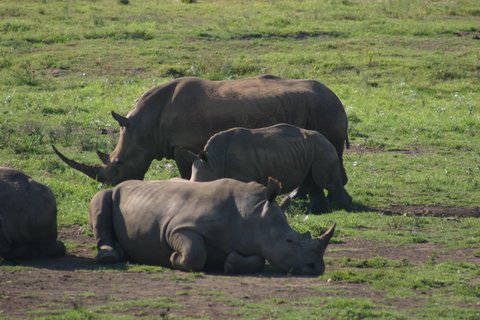 Do you know why the rhino is one of the most dangerous animal?
Because it does not warn when he's going to attack. Once, I've asked to a ranger what was the most scariest moment in his ranger's life.
It was during a bush walk with a group of tourists in a reserve where one of the tourist was so obsessive to take a nice picture of a rhino that he walked towards him despite the ranger's orders to stop. And suddenly, the rhino looked at him and started to run. The ranger and the whole group together screamed...The ranger said to me: 'You have no idea how loud people can scream when they are life threatened, but it was a miracle that it made the rhino stopped'.
And he ended the story by 'If you ask me what I am scared about, I would reply people because they are so unpredictible and can make stupid decisions.'
Do you know how to distinguish a Black rhino to a White rhino?
Not with the colour because they have the same colour! The Black Rhino is much smaller than the White one, and he has a pointed mouth, which he uses to grasp leaves.
Where to see them?
They don't need lots of water, neither trees to live so you can see them in pretty much any reserve.

---
THE LEOPARD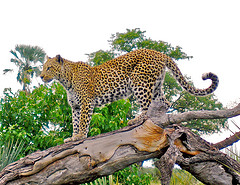 There are less and less leopard living on planet earth and most of them are in the Sub Sahara region. During the day, they stay in secluded spots or they lye in high branches of trees. Unfortunately, I've never managed to see this African Big Five in the reserves I have been. However, if you look very carefully and if you are lucky, you would be able to see them in Aquila game reserve.


Apart from the Big Five, there are plenty other great animals to go and see in Cape Town, have a look here.



From African Big Five to Game Reserves

From African big five game to Voila Cape Town