Best car rental in Cape Town
Car rental in Cape Town
I have pre-selected for you the most reputable and reliable car rental agencies in Cape Town. It all depends they type of car you would like to rent as some are more specialised for certain cars. They all offer great deals for good quality cars. The prices mentionned might have slightly changed and are given to give you an indication.
Use and abuse of internet to book your car! It is indeed a great tool because you can take your time to make a well thought research and easily compare prices. Now I can also help you on that and contact the best car rentals for you. If you are keen on this offer, just drop me an email.

Enjoy the ride!

---
Car rental in Cape Town: From A Golf Chico To A Toyota Quantum
First, you can go and have a look at DriveSouthAfrica.co.za. They offer various transport rentals all over South Africa, Swaziland and Lesotho.
I have also selected other car rentals which offer a wide range of cars. And what I like about them is that they have agencies pretty much all over South Africa which is great if you want to drop your car somewhere else than in Cape Town. Check on
- Q car hire offers car hire from R109/day. All car rental include 24h roadside assistance. www.qcarhire.co.za,

- South Africa Car Rental is an agent for Europcar. This Cape Town car rental agency offers hire from R229/day. Ask for an instant online quote! www.southafricar.com,

-Star car rental sources vehicles at the best prevailing rates available throughout SA. Rent a car in Cape Town from R 209/day. www.capetowncarhire.co.za,

- Africa car hire offers a booking and quotation form online. Rent a car from R 192/day. www.africa-car-hire.com

- Thifty has 26 years of experience in the car rental industry. They offer a special of R 185/day with 200km free. www.thrifty.co.za

- Wise wheels car rental offers free delivery and collection service at Cape Town International airport or Cape Town station.This car rental agency based in Milnerton (Table View)offers hire from R125/day. Contact them at www.wisewheels.co.za



---
Luxury Car Rental in Cape Town
If you are looking for a comfortable car to rent such as BMW, I advise you to check with www.capecorporate.co.za or www.drivewithus.co.za.



---
Cape Town 4X4 Rental
If you love 4x4, you have found the perfect destination! Cape Town has plenty of 4x4 trails! And obviously lots of car rental in Cape Town do hire 4x4.

Go to www.africa-car-hire.com or www.offroadafrica.com.



---
Cape Town Camper Rental
What a better way to travel! NO need to bother so much with expensive accomodation as you will have the choice to go to 800 caravan parks and campsites in South Africa! They are very well kept and on par with international standards (if not sometimes better!)

Ask for a quote on www.camperhire.co.za or on www.helderbergcamperhire.co.za. or www.aacamperhire.co.za/



---
Rent a Beetle
Looking for a budget car rental in Cape Town? Rent a Beetle! Cape Town is the beetles paradise! Volkswagen beetles are considered as vintage cars in Europe but not in Cape Town!
Price to hire a beetle is cheaper than renting any other car...so have fun and live a unique experience! That also can be a good deal for a long term rental.

Go to www.bestbeetle.co.za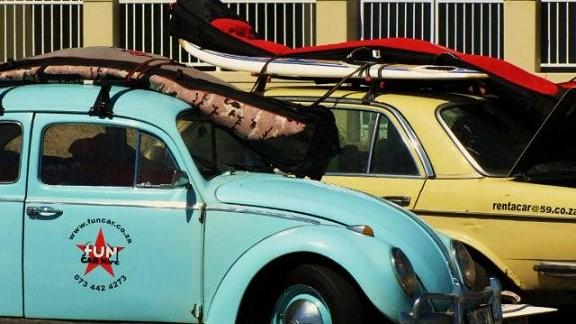 ---
Would You Go The Extra Mile and Rent a Vintage Car?!
Some agencies of car rental in Cape Town offer the possibility to rent a Cape Cobra or any other vintage cars that you are dreaming of...
Go and have a look on www.motorclassic.co.za, www.motostars.com, www.classictours.co.za ...or Do You Feel Like Renting A Superb Cape Cobra? www.capecobrahire.co.za


And if money is not an issue for you, you obviously can rent any luxury car you wish in Cape Town, Ferrari, Porsche, Lamborghini, Bentley, Rolls Royces, Hummer, go and check on www.jetset2010.com





Return from car rental in Cape Town to Voila Cape Town