Cheap flights to Cape Town
There are many ways to find international flights! And to find cheap flights to Cape Town, you have the following options:
- Travel agents
- Search engines
- a friend! It already happened to me to hear about a special from a friend who has recently travelled.
By the way, talking about specials...at this moment, if you come from Europe, you should check with Emirates airlines which offer great fares for a maximum comfort during your flight. This is one of the best airlines I ever travelled with!

FLIGHT SEARCH ENGINES
I have tested a number of search engines over my many years living in Cape Town, and I would strongly recommend you give it a try to Search Airlines Prices or Vayama.

Cheap Flights :Find Cheap Flights and Airfare Deals on OneTravel. Book now and Save big.


Another great option is to find cheap flights to Cape Town is to deal with Cheap Cape Town Flights . They compare all the airlines to make sure that you find the cheapest flight to Cape Town using their flight comparison tool.
I find them to be the best if you want to look for cheap flights to Cape Town, the Mother City !!!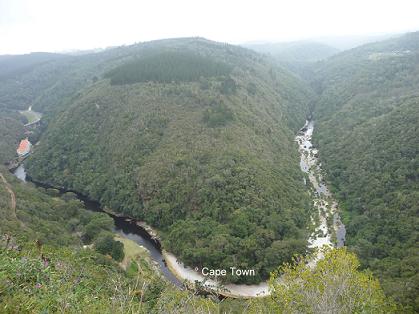 In 2010, because of all events (Cape Argus, Cape Epics, 2010 Soccer World Cup..) and public holidays I advise you to book your flight well in advance and even more if you want cheap flights to Cape Town.
These are the dates of what's happening in 2010:
School Holidays
27 March - 11 April, 26 April
10 June - 11 July
Events
Cape Argus 14 March
Comrades 30 May
Cape Epic 21 - 28 March
Two Oceans 03 April
Durban July 03 July
Grahams Town Festival 20 June - 08 July
2010 World Cup 11 June - 11 July
Public Holidays Human Rights day 21 March
Public Holiday
Human Rights 22 March
Good Friday 02 April
Family Day 05 April
Freedom Day 27 April
Workers Day 01 May
Youth Day 16 June
---
INTERNATIONAL AIRLINES
Around 50 airlines fly to South Africa but they nearly all transit in Johannesburg airport before going to Cape Town.
The flight from Johannesburg to Cape Town takes 2h10 and you should count another 30 minutes to go from the domestic terminal to the international terminal in Johannesburg airport..
To give you an idea,from Johannesburg airport it will take you:
-11h30 from Paris,
-10h30 from Madrid,
-15h20 from New York,
-12h from London,
-10h10 from Frankfurt or Buenos Aires,
-13h15 from Hong Kong.
The great thing is most of the flights from Europe are by night so you'll be able to relax and maybe sleep and have a breakfast before arriving.
Also, the great news is you won't suffer from jet lag because during summer it's the same time in South Africa than in Europe and in winter South Africa is one hour ahead.


If you are looking for international flights,through my experience, I have compile click information that I would like to share with you.




---
DOMESTIC SOUTH AFRICAN AIRLINES
Around 5 domestic South African airlines fly within South Afrian and offer very competitive rates.



---
INFO ABOUT CAPE TOWN AIRPORT
If you are looking for specific information about Cape Town airport, you should click here.





From Cheap Flights to Cape Town to Voila Cape Town