Unusual Wedding Gifts
Looking for unusual wedding gifts? Don't look further, the wedding cup of Warwick is such a special gift...



The Wedding Cup of Warwick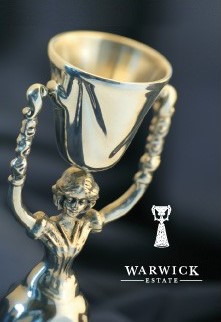 Once upon a time there was a beautiful maiden Kunigunde who fell in love with a young ambitious goldsmith. She refused many titled and rich suitors who asked for her hand in marriage, and finally confessed her secret love to her father, a powerful nobleman.
He became so enraged he had the young man thrown into the darkest dungeon. This broke poor Kunigunde's heart, but not even her bitter tears would change her fathers mind. She wasted away until finally one day he seemed to relent and said: " if your goldsmith can make a chalice from which two people can drink at the same time without spilling one single drop, I will free him and you shall become his wife."
Of course he was certain nobody could perform such a task, but love inspired the young man and in only a few days his nimble fingers formed a lovely skirt shaped chalice, the likes of which no one had ever seen before.
At the top stood a model of his virtuous and beautiful beloved who with upraised arms bore a small movable cup.
Nothing was easier than for two people to drink simultaneously from the wine filled chalice. The story ended well with the loving couple becoming man and wife. On their wedding day, and often later on, they drank their favourite red wine from the chalice and lived happily ever after.
To this day for many couples the chalice remains a symbol.
Love, faithfulness and good luck await the couple that drinks from this chalice.

This ultimate silver and nickel Wedding cup says quality and...love. Treat someone to this unusual wedding gifts.
This elegant piece of art can be personalized for any special occasion of your choice, a birthday, anniversary or a wedding good wish. It comes with high quality packaging in black and pink with a gold embossed emblem.
The Wedding cup is the ultimate gift as you give love, faithfulness and luck to whoever drinks from it.
Price: R2000 (transport on request)

From unusual wedding gifts to Voila Cape Town