Cape Town transport
Cape Town transport is a bit different from other big cities in the world as the public transport is poor. However, things have improved a lots since the Soccer World Cup.
I have listed my suggestions to organise your transport in Cape Town depending on what you are planning to do and visit.
And my first advice is...please don't forget that the driving is supposed to happen on the left hand side of the road!!! Follow the cars and if you are at a stop, think twice before engaging!
You should also read about the road conditions in South Africa.


CAPE TOWN TRANSPORT TO VISIT AND CIRCULATE WITHIN THE CITY CENTER...
CAPE TOWN TRANSPORT...BY BUS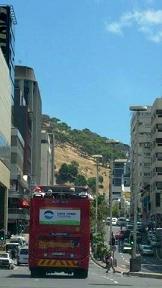 Don't expect to get the same public transport in Cape Town than in most of the big cities in the world. There is no subway or tramway and the bus system works mostly to and from the suburb.
However, it has been improved a lot since the Soccer World Cup and we now have my my citibus which is great to go to Bloubergstrand and also to the airport.
In town, you will find the 'taxi bus' or black taxis as they call it here. You will find them all over town. This type of transport is cheap and may prove practical for short distances in town (less than R5).
Another option is the City sight seeing bus . You see these red open top double decked buses all around town where they hop on and hop off tourists who want to have a city sight seeing with no stress! Two routes (A mini Cape Town's Peninsula tour and a city tour for R200 for both routes over 2 days) cover the city as far out as the world famous Kirstenbosch Botanical Gardens and Hout Bay. Buses depart daily from 09h10 outside the Two Oceans Aquarium in the heart of the V&A Waterfront.
CAPE TOWN TRANSPORT...BY CAR
The city center is quite small and the main roads (Buitengracht str, Bree str, Loop str, Long str and Adderley str) are parallel to each other which makes it quite easy to always find your way.
Also, Capetonians are easy going drivers. If you arrive at a cross lane, the first car which arrives there, will be the first car to go. Driving standards vary from one country to another so drive carefully at all times.
Ah! Most of the time, the speed cameras will be indicated before with a sign..so watch out! There are something like 73 of them around Cape Town.
Whatever you decide to hire, you will need a valid driver's licence (with photo and in english) or an international driver's licence, to have been a driver for at least 1 year and be over 21 years old.
You can rent a vehicle from the airport or through the car hire agencies themselves prior to your arrival.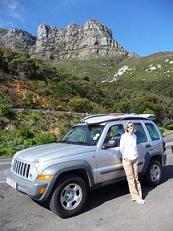 To give you an idea, it costs between R170 and R600 a day depending on the car you wish to hire.i.e R300 a day to rent a class B such as a VW Polo.
Most of the international car hire companies have an office and depot at the airport so you can take the car directly at the airport when you arrive and leave it there when you leave. Check with them!
There are many other car rental companies in Cape Town, and although they do not have an office at the airport, you may book your car online prior to arrival and they will deliver the car at the airport when you arrive.



CAPE TOWN TRANSPORT...BY TRAIN
You can use the Cape metro rail train to go to the suburbs but I would advice you to avoid using it after 18h00 for security purpose.
The City of Cape Town, Cape Town Tourism & Metrorail have even introduced the Southern Line Tourism Route .
'For one fixed fee you can travel between Cape Town, Observatory, Newlands, Muizenberg, Kalk Bay and Simon's Town as many times as you like between 8am and 4h30pm.
Buy your ticket at participating stations or Cape Town Tourism's head office in Burg Street. You will recieve a map that indicates tourist attractions within walking distance of each station.
There are few experiences in the world that rival the thrill of traveling by train along a rugged coast line while inhaling the freshest sea air and soaking in the sights. The Southern Line boasts all of this coupled with convenience and ease of accessibility to major tourist attractions. The route highlights the main attractions within a 2km radius of each of the stations mentioned.' Source: http://www.capetowngreenmap.co.za/interactive-green-map


CAPE TOWN TRANSPORT...BY TAXIS
Taxis are also another good mean of transport to travel within the city center!
RIKKI's taxi! Yeaaaahhh! I think they are good and look great! You phone them for a shared ride, and they fetch you.
They can take up to 4 passengers. The driver is picking everybody along the road before going to final destination which minimizes the cost and it gives you the opportunities to meet people. And the little extra...there is tv inside! Very fancy! The price varies related to where you go from R15 to R50.
They also offer shuttle service from and to the airport, and their Rikkis direct service (door to door classic taxi service). www.rikkis.co.za Other than Rikki's taxi, there are numerous taxi companies in town.
You could contact sea breeze radio taxi's- 084 6910072 or shuttle excellence cc-021 4620272, or excite taxis and Marine Taxis.
It will cost you around R 170to the airport if you are in the city center.If the taxis are not metered, agree on the price beforehand.


CAPE TOWN TRANSPORT...BY BICYCLE
Cape Town has now bicyle lanes which make your travel safe and so convenient! Depending on where you stay, you can rent to the most convenient agency. The
green map will help you with your choice.
CAPE TOWN TRANSPORT...BY SCOOTER
What a better way of enjoying Cape Town in summer than on scooter! No problem of parking! No traffic...which can be quite heavy in high season! Rent a scooter!


CAPE TOWN TRANSPORT...BY MOTORBIKE
Looking for a relaxed means of transport for your holidays?
Why don't you rent a motorbike such as a Harley?!
By the way, Go bike in partnership with Harley-Davidson organises bikes tour on Route 62 in the Western Cape.
Also, Wayne Armstrong invites you to check the experiences & pictures of scenic motorbike rides in the Western Cape, South Africa. Journey with Wayne Armstrong as he shows you the most beautiful,scenic motorbike rides on routes he has taken in and around the area. Useful Biker Links included. Click here.
If Harley isn't your cup of tea, you could find any other bikes to hire from these 2 agencies Cape Bike or Motor Berlin.
Another fun way to discover Cape Town is with vintage World War II sidecar.


And what about renting a classic 750cc Sidecar?!

---
Return from Cape Town transport to Voila Cape Town