Trip South Africa
For your trip South Africa, you can either rent a car or travel by bus or train. It depends on your budget (less expensive by bus) and how you want to be mobile and flexible.
Trip South Africa by car
You can rent a car and drive around.
From Cape Town, there are 2 national highways: the N1 to Johannesburg and the N2 to the Garden Route. Both roads are pretty empty in terms of traffic which makes it very pleasant to drive in South Africa.
The roads are also very often in good conditions and road safety in South Africa is fine. However, sometimes to go to a specific place off the national roads, you might have to drive on dirt roads! You will then feel in Africa even though the off roads are much nicer here and it is easily accessible with a sedan car most of the time! ;-)
Drive preferably less than 80km/hour and you'll be fine. Don't slam the brakes!
Also, one other great thing, I must say, is that there is almost no toll road in South Africa... It's a relief when you come from Europe!


Most of our roads are like the Route 66, there are straight. Sometimes you can drive for 100km without steering, straight ahead, and you can see the road like a ribbon unrolling itself in front of you, through the wild emptiness of South African land...
By the way, talking about emptiness, make sure that you fill your car up in every town because petrol stations aren't as common as in Europe. Also, take enough cash with you, as most of petrol stations don't accept credit cards or traveller cheques. For your information, petrol is much cheaper in SA than in Europe with EUR0,55/L. Ah! Another funny thing...You must know that there is a 'driving language' in South Africa! If you need to overtake, signal it with your indicators, and most of the drivers will pull their cars to the left, on the emergency yellow lane so that you can overtake safely! You will thereafter activate your warning lights to thank them!
My last advice to you is: please try to avoid driving at night. Wild and stray animals become more active and it can be dangerous as most south african roads don't have proper lights at night.
Trip South Africa by coach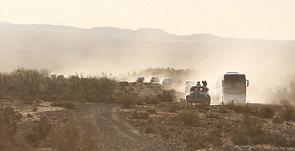 You can use luxury coaches which link the major centres. Geyhound and Translux are amongst the long established coach lines.
Also, check if you are a student, you might be able to get 15 % discount! The prices depend on seasons.
One great way to discover the country is to buy a Travel Pass from Greyhound. It will give you 7 days unlimited travel within 30 days for R1400 or 15 days unlimited travel within 30 days for R2700. You hop on and off the bus as you like!... and because they go virtually everywhere in South Africa, this makes it a great way to discover the country. You can decide to stop for a few days in a village, totally improvising, just because you liked it!
This is also available from Baz bus at slightly lower rates which backpackers will appreciate...



Trip South Africa by train
Globally, I would not recommend using trains for your transport within South Africa.
However, if money is not the matter and you want to indulge yourself in a mix of exotic romance and luxury, I can only recommend you to do the journey from Pretoria to Cape Town in the world famous Blue Train or in the Rovos. Both trains have been completely refurbished for the delight of their travelers. You will enjoy a five star luxury service and accomodation with air-conditioned compartment, queen bed, writing table, dressing table, small refrigerator, toilet, hand basin, en-suite bathroom, fresh white towels and luxury toiletries.
If you are looking for flight, click here.

From Trip South Africa to Cape Town transport
From Trip South Africa to Voila Cape Town homepage