Romantic honeymoon ideas for a 'oh-darling' atmosphere!
Looking for romantic honeymoon ideas?
Well, just have a look at the following suggestions and you will have so many honeymoon stories to tell to your grand children!
Romantic Honeymoon Ideas...A DAY IN A SPA
There are plenty of beautiful spas in Cape Town but I would recommend you two that I particularly like.
Sanctuary spa is quite small and is made in such a way that you can have some privacy in your own jacuzzis or epsom salt bath. The atmosphere inside as much as outside, is exquisite. You can even book a treatment under outdoor Gazebo with seaview!
My other favourite spa is Altira Spa at the Arabella Sheraton Hotel in Hermanus. It's 1h30 hour drive from Cape Town which will make a day tour or even longer if you plan to stay in this beautiful hotel. The spa is divine and I recommend you to book for the Rainforest experience for a spa time together! I would advise you to come in the early morning to enjoy the hotel swimming pool first and at lunch time, have a snack on the terrace and then go for the treatment. That would be a real deal!
There are few more luxury spas that I highly recommend you to try.
Other nice romantic honeymoon ideas are to go to Sanbona game reserve (3 hours drive from Cape Town) where you can see the Big 5 and pamper yourself in a spa!
---

Romantic Honeymoon Ideas...A DAY IN THE WINELANDS
A nice romantic honeymoon idea is to go in the winelands. There are lots of wine estates around Cape Town but some are really worth a visit because they have nice wines and they are also beautiful with Cape Dutch or contemporary architecture. There is a large concentration of wine estates in Stellenbosch and therefore I advise you to go on Stellenbosch's wine route to visit Waterford, Warwick, Knorhoek...
Waterford

At Waterford, from the moment you will enter the estate, going to the reception via a beautiful alley of lavender to the moment you will leave with your mouth full of flavours, you will definitely have a romantic experience.
They offer yummy wine and chocolate pairing!
Remember...chocolate is supposed to be aphrodisiac too!


Warwick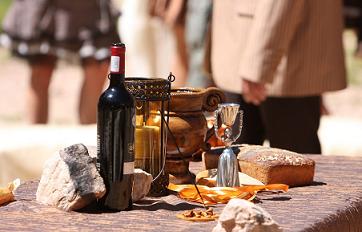 You should go to this wine estate to taste their lovely wines (I like Trilogy) but above all to offer you this very special wedding or honeymoon gift:
the wedding cup (cf. picture of the silver lady on the table).
This is the perfect gift to remember your honeymoon in Cape Town and to remind you from time to time, the true meaning of love.


Knorhoek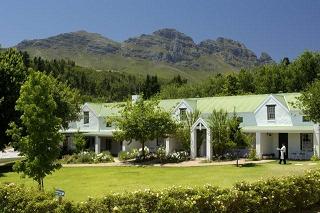 This is a nice venue to have wine tasting and if you feel a bit knock out after the tasting you could always decide to stay over in their lovely guest house.
On the wine side, I particularly like the blend Pantere 2005.
From September to mid May, they also offer lunch from 12:00 – 15:00 Tuesday to Sunday. Note that they are closed on Mondays.


Muratie
There is a romantic story about this wine estate...
"Standing in front of the cellar door at Muratie, you will see a small white building, this was the first home that Lourens Campher built for his family. Beside the house is the oak tree his wife, Ansela van de Caab, planted. The strength and beauty of the tree is testament to the steadfast love Lourens had for his Ansela.

Ansela grew up in Cape Town castle – the daughter of a female slave and a soldier – and it was in the castle gardens that Lourens, a German soldier, first saw her. They fell in love, but it was many years before they could live together on the "certain piece of land" that the Governor of the Cape allocated Lourens, with the instruction to "beplant, bepoot betimmer and bezaai".

Lourens moved to his farm at the foothills of the Simonsberg Mountain, but between 1685 and 1699 he would walk to Cape Town to visit Ansela – each trip taking about a week. During these 14 years Ansela gave birth to three children – Cornelius, Jocoba and Agenietjie.

But she yearned to be with Lourens and to break the chains of bondage to become a "very burgher". A Cape Town lady called Mrs Diemer heard of Ansela's plight and spoke to the Governor, who said that if Mrs Diemer bought Ansela, Ansela may have a chance of being emancipated.

However, another issue stood in her way – Ansela had not been baptised. On June 28 1699, Ansela was baptised, and the Governor agreed to set her free. Lourens must have been overjoyed as he took the long walk to Cape Town to fetch the love of his life and their three children and bring them back to Muratie. Ansela is still remembered today as her name has been given to Muratie's red blend, Ansela."

This wine estate is unique for its love story and also for the unique style: they have kept very old spider webs that gives such an authentic character.
This charming wine estate makes great wines especially the Muratie Shiraz 2006, the Muratie Melcks Red 2006and you should obviously drink a glass of Ansela under the oak tree.
Their guest house is also very nice and they offer traditional Karoo lunch every Fridays. Booking is essential by Thursday 12:00.


Neethlingshof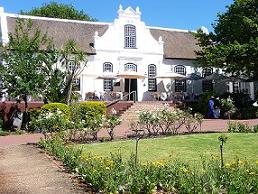 This is a beautiful wine estate, worth a visit if not for tasting but if you do go for wine tasting, you sould try the Lord Neethling Weisser Riesling Noble late harvest 2006 which won Veritas 2007 Double Gold awards.
Also, for a peaceful and romantic lunch, I recommend you to eat on the veranda of their lovely restaurant.
And if you feel like spending a night in the Winelands, I can only recommend you to stay at this very romantic place in Stellenbosch called Majeka house.
---

Romantic Honeymoon Ideas... A DAY OR TWO IN A GAME RESERVE
Another lovely romantic honeymoon idea would be to go and see the wildlife.
I wish all my clients could go to Tswalu
as this is one of the best experience I have ever had in South Africa. This is a true dream!
From the moment you arrive at Execujet to your lodge (2 hours flight), to the lions, to the meerkats, to the restaurant...there is no doubt that you are at the right place and right time regardless of the weather!
Flashes of images pop out of my mind whenever I think about this reserve:
• the view of incredible red hills, fields and mountains from the private jet;
• my husband and I sitting (with a big smile on our faces) alone in our Land Rover with our private guide and tracker admiring the beauty surrounding us with yellow, green and red landscapes;
• walking to the meerkats and get so close to them that you almost feel you are part of them except that you are not made to eat scorpions like they do (!). It's impressive to watch them digging like crazy to get their crunchy 'kind of prawns' that they will eat with the same energy!;
• tracking lions for one hour to find an alley of footprint first then go and circle to finally see, right in front of us, 2 lionesses and 3 cubs; following them in their own environment for 45min through the bush with the 4x4- this is truly unique!;
•horse-riding alongside giraffes in the wild to feel one with nature, observing wildlife;
• touching an orphan zebra, feeding him with a baby bottle and feeling that you are truly a stranger to him made this moment even more special as that what you expect from a wild animal;
• enjoying the heaviness in the air and the sky of coming thunderstorm and watching a group of 8 giraffes at sundowners with storm lightning's in the background;
• holding a millipede in my hand and feel the thousands legs walking over my harm!
I can assure you that on the list of what to do before you die, after your stay at Tswalu, you'll be able to tick a rather important amount of experiences!
Should I mention that accommodation, restaurant and the service are obviously outstanding?!
One advise before you go, don't forget your camera because your personal internal 'hard-drive' won't be big enough to remember all details you'll experience and this is definitely something you want to remember for the rest of your life! It will boost your 'down' moments.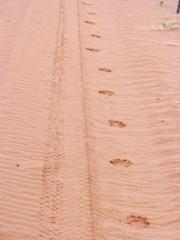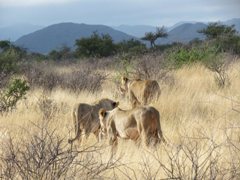 Otherwise, Inverdoorn is the closest reserve from Cape Town (3 hours drive). This is a nice place to relax. I've been there twice and each time, I have enjoyed it! I like that the managers are living there and so they are looking ater their clients to make sure they are happy.
The safaris are well organised and the food with a French touch, very good!
Get more information on Inverdoorn and other African safari wildlife parks, click here.

From Inverdoorn, you could carry on your romantic trip to Sutherlands (5hours from Cape Town and 3hours from Inverdoorn) where there is the largest telescope in the Southern atmosphere to watch the stars together. How romantic is that?!
---

Romantic Honeymoon Ideas... SUNDOWNERS ON CLIFTON 2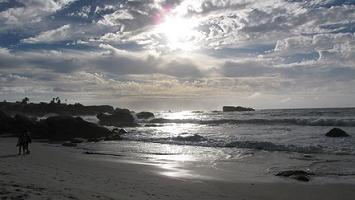 I like Clifton 2 for sundowners because it is small and well shettered...Summer in Cape Town can be surprisingly very windy!
Bring a picnic basket with lovely goodies... Think of snacks, 2 glasses, a good bottle of wine that you would have bought after a romantic wine tasting, few candles, a cover to sit on, some napkins, your camera and a love mood to watch the beautiful moon!What a romantic honeymoon idea!!!
---

Romantic Honeymoon Ideas...HORSERIDING ON LONG BEACH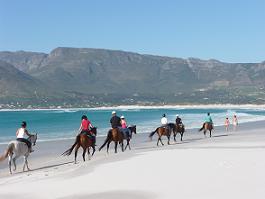 Imagine a magnificient long white beach, beautiful sea and both of you horse riding ...Stop imagining! Just do it!
The horse riding school at Imhoff farm in Noordhoek offers morning, lunch or late afternoon ride. I would recommend you the last one as the landscape takes another dimension when the sun goes down...
The great news: you can be a complete beginner to do it. They will ask you if you want to trot or gallop and it's entirely up to you if you would rather keep walking, they will keep the eas and slow path...
The ride is 2 hours so it gives enough time to enjoy it.
---

Romantic Honeymoon Ideas...DRINKING CHAMPAGNE IN A BALLOON OVER THE WINELANDS
How far or how high do you want to go together?! For an exquisite time together that you will remember the rest of your life, book a hot air ballon flight
---

Romantic Honeymoon Ideas...HELICOPTER TOUR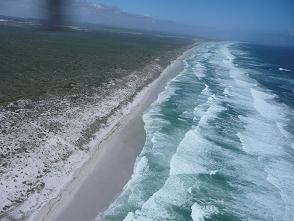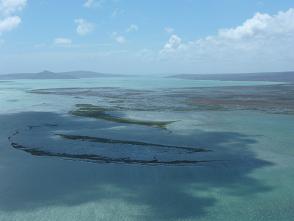 A friend of mine booked a fly-in lunch on Lanzerac wine estate. And when they landed, he proposed his girlfriend! How romantic is that?! If you've already done the job then enjoy this flight just for two...

Another tour that you will remember all your life is the West Coast tour or they also call it Elandsfontein Adventure. The departure will be from the V&A Waterfront and you'll fly 45 minutes along the coast to land in Elandsfontein Game Reserve . The main focus of this reserve is their fossil site...the biggest in South Africa! Go and seeth fossils in beautiful sand dunes with quad bikes. After lots of fun in the dunes and discovery of amazing fossil sites a lovely lunch will be waiting for you.
---

Romantic Honeymoon Ideas...A DINNER OUT...IN A LIMOUSINE!
First of all, there are plenty of great restaurants in Cape Town for a romantic dinner. Amongst my favourite ones, I leave it to you to decide each one you would like to go to!
Make this evening out very special... organize a surprise table with my help and what about booking a limousine to pick you up at your hotel?!
---

Romantic Honeymoon Ideas...A SUNSET CRUISE, A RESTAURANT...FOLLOWED BY THE WHEEL OF LIFE!
Who ever you try to seduce, will be crzay about you after an evening packed of surprises! Here are my suggestions...
Meet at 17h30 at the Waterfront to be on time for a sunset champagne cruise departing at 18h00 on the Spirit of Victoria Spirit of Victoria which I think is the most beautiful boat to have a romantic sunset. Then, you can for a candlelight dinner at Harbour House in the Waterfront. And to finish the evening with the utmost romantic idea...Take a ride in the sky (!)with the Wheel of Excellence (also at the waterfront). It's 40m high and offers sublim views of the city, Table Mountain and Cape Town stadium at night.




From Romantic honeymoon ideas to Voila Cape Town