Art classes for kids and adults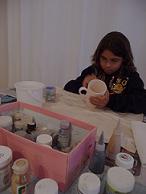 Art classes for kids and adults are a great way to relax and come back to the essential: forget about time and get in touch with your inner soul with creativity. It enables kids to slow down and concentrate which will help them doing the same in life. It is all about practice! Going for art courses is also so rewarding as you create things by yourself (with the support of the expert!) and it can be very nice for kids who don't have confidence. In Cape Town, we have plenty of art courses for kids and adults and after all it is just a matter of finding time to do them all!
ALL TYPE OF ART
Crafty Kids offer extra mural art courses for kids 6-13 years old. Your kids will learn to create so many things: toys, gifts and works of art using clay, paper mache, starch, wax, pastels and glass stain. Your kids will have a lot of fun! Contact: Elzahn +278679267/info@craftykids.co.za
The Rainbow experience offer all sorts of art classes such as Sun painting, knitting, using beads...
CANDLEMAKING
Candle Maker's Deli is running weekly candlemaking classes in Bloubergstrand by Sollyn a local artist.
There are three different candlemaking art courses from 15 years old: *The Full Monty: you will make 10 candles (jar candles, dinner candles, normal candles...). Every Tuesday and Saturday from 10h to 15h-R400 *The Foundation: you will make 5 candles. Every Tuesday and Saturday from 10h to 13h- R250 *The decorating class: 4 candles to buy and great tips will be given to you on how to decorate candles. Every Tuesday and Saturday from 10h to 13h- R40/hour
If you are interested in these art classes for kids and adults, contact Solly: +2721 557 9581.
PAINTING
Artjamming is a fun way for you and your kids to freely express yourself on a blank canvas. Go wild! That's what Artjamming is all about...
PHOTOGRAPHY CLASSES
I can only recommend you to contact Leon Oostuizen who offers amazing photography classes in Cape Town.
POTTERY
Tania Babb Studio give children's pottery classes in Wynberg. Contact: Tania +2721 797 5871/baobab@mweb.co.za
Toni Burton gives children and adult ceramic classes in Noordhoek. Contact: Toni +2721 789 1491/TBurton@zizamele.co.za
Kaia Pottery Studio offer children and adults's classes for handbuilding and sculpture classes in Kommetjie. Contact: Jocelyn +2721 783 3061/outerkom]absamail.co.za
Dawntime Studio give adluts and children's classes for handwork, wheelwork and raku in Tokai. Contact: +2721 715 4887/jennydfrantisek@yahoo.com
From art classes for kids to Voila Cape Town Homepage