My favourite Cape Town beaches!
Cape Town beaches: Clifton,Camps Bay, Long beach, Llandudno...you name them! Cape Town is a paradise for beach lovers! I am going to suggest you to which beach you should go to and for what reason because they all have something special to offer. Yeah! Yeah! Yeah! Vive les vacances! On the little note, some of the beaches I have listed below have lifeguards are on duty in the peak season (December to January)such as Clifton, Camps Bay, Llandudno.

View Cape Town beaches in a larger map




CLIFTON BEACH CAPE TOWN...The best Cape Town beach for sundowner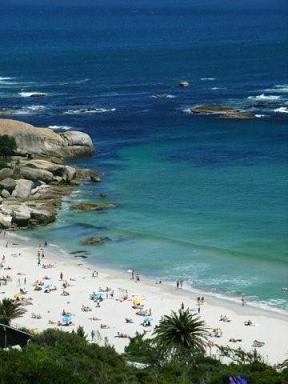 It is actually 4 beaches that you can choose to go to. The first time I've tried to find Clifton beaches, I had no clue how to access them as they looked quite private but they're not and they are for free!
On Victoria road, there will be signs indicated to which beach the flights of stairs will take you to.
By the way, during summer, try to arrive as early as possible on the afternoon as parking can be quite hectic!
Another little tip even it's not very sexy!...don't forget to go to the toilet as there is no restaurants or toilets close by...
Clifton 1 and 2 is the one to go to if you wanna surf but don't forget to come with a wetsuit as the water is kind of chilly (around 14°C)! So this is also the place if you would like to socialize with sexy ans sporty locals!
Clifton 4 is perfect for families as the sea is quieter but still very cold! ;-) It has also been awarded the Blue Flag award in recognition of its environmental, safety and tourist standards.
Now, once you are there, if you decide that you would rather go to Clifton 2 (my favourite) while you are on Clifton 4, you can go by the beach to a certain extent if the tide is not too hight. You just need to walk around the nice granite boulders on the side of the beach and you will access the next beach.
If you would rather avoid sun bathing, you can still enjoy the beauties of these beaches by going for sundowners. Lots of Cape Townian like my husband and I go to theses beaches after work to play beach bats or to simply enjoy a pic nic with a nice glass of wine in front of a beautiful sundowner!

Clifton beaches are also the perfect spots to go to when the south easter wind is blowing like mad anywhere else! They are wind sheltered.
If you are looking for accommodation, I would like to advise you to book at this sumptuous place in Clifton.
Cape View 4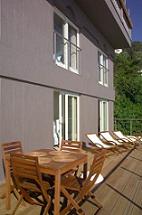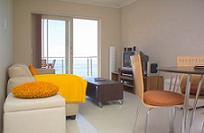 'Cape View 4' is a beautiful seven storey dwelling, and is configured into four separate, and or, interlinking apartments. The seaview is absolutely outstanding!
It has 2 bedrooms and both have a queen size bed, BIC, wooden balcony to pool deck and ceiling fans.
There is a bathroom across the passage way with a bath, hand held shower, wash basin and WC.
The living area is at at floor level 6, accessible with a staircase of 113 steps from road level to apartment.
There is also a passageway, a store room, a lounge, a dining area and a kitchenette, DSTV and a music centre.
The outdoor has a Jacuzzi and sundeck.
Street parking.
If you are interested in renting it, please complete the form below.


If you would like to go for a nice drink or dinner after your beach session, you should hit to Camps Bay where you will probably find what you are looking for. I like the Sand bar for drinks and Tuscany beach or Summerville restaurant for dinner.

CAMPS BAY BEACH...the best Cape Town beach for sun bathing when it's wind free!
I love to go there early morning to have a walk before everybody come here for sun tan and before going to work...see the picture!
Also, if you are you looking for a beach with nice vibes then you should go to Camps Bay where you will find beach volley tournaments, kayaking, surf, massages on the beach (see the other picture below!)! It is very convenient as across the road there are loads of restaurants and bars to refresh yourself and get some finger lunch or even nice dinner!... Check the Camps Bay beachcam to check if it is crowdy before you go...!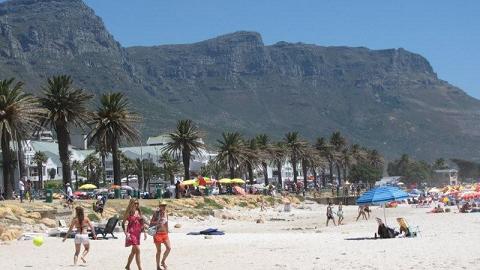 You will get the most incredible view on the 12 Apostles when you lay down on your stomach back to the sea!
Also, families love to go there as there are sea water pools for kids to play in and where the whole family can have a nice barbecue (or braai as the locals call it!).
However, if the wind is pumping, go to one of Clifton's beaches!
If you are looking for accommodation in Camps Bay, these are my favourite places.
Bakoven Penthouse 1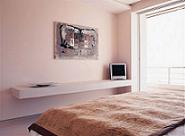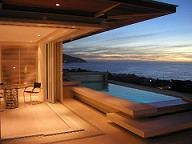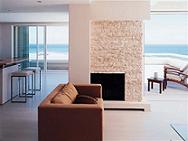 'Bakoven Penthouse 1' is ideally suited to those looking for an alternative to a 5 star hotel, but requiring the comfort, convenience and privacy of a luxury, fully equipped home in Cape Town's most fashionable and desirable area.
This 2 double bedroom penthouse is furnished to highest standards...
The living area has an open plan dining room and kitchen with all appliances including washing machine, tumble drier and dishwasher, the lounge including gas fireplace, TV, DVD, high speed WIFI connectivity.
The outdoor area has a deck with a swimming pool with unsurpassed views
It is fully air conditioned with under floor heating in selected areas, single lock up garage with remote control leading directly into apartment, serviced Monday to Saturday, monitored electronic security system.
It is at only 100m to the private and secluded Bakoven beach and 1km easy walk along the coast to Camps Bay.
If you are interested in renting it, please complete the form below.


LLANDUDNO BEACH...the best Cape Town beach for surfing


Hard to pronounce its name but if you mention it to any locals they will know which one you mean!!!
Llandudno beach is where you should aim without any doubt if you want to watch beautiful waves or be more sportive and surf! Be warned that the wave, there, is known to be rather difficult...and allocated to the locals...!
This beach is wild and beautiful with large granite boulders and with view on 'little lionshead mountain'and the 12 Apostles!
If you are looking for accommodation or just for having a drink afterwards, you can go to the 12 Apostles hotel which has amazing view on the Atlantic Ocean or go to Hout Bay.
Around the corner from Llandudno, you will find SANDY BAY BEACH which is one of the Cape Peninsula's most inaccessible beaches and is then well known as an unofficial nudist beach.To get to the beach, you should follow a level walking path from the car park which takes around 20 minutes. The beach can also be reached from the Hout Bay dunes.



LONG BEACH...the best Cape Town beach for walks and horse riding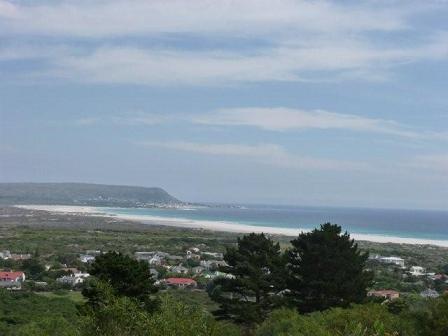 It's the most beautiful Cape Town beaches to have long walk. It links Noordhoek to Kommetjie.The sand is white white and the sea blue blue blue! The wind is often pumping which makes walk even more sportive! From Kommetjie side, you can even book for horse riding on the beach

If you are looking for accommodation around, click here


BOULDERS BEACH...the best Cape Town beach to swim with African penguins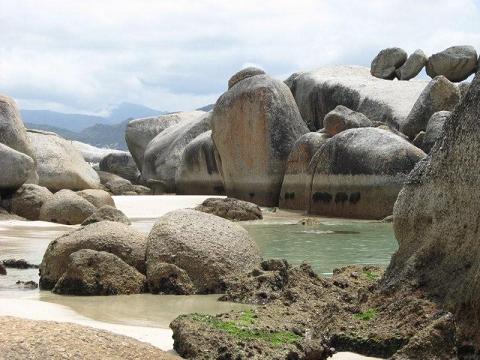 Have you ever swum with Penguins? Well this is the opportunity to do so and on top of it te water is warm! The beach is close to Simon's town, in the Cape Peninsula meaning also that the water is a bit warmer! Around 3000 Penguins are there all year long! Happy to be the main attraction of this beach! More info on penguins, click here. You could also go to Fish Hoek beach which is ideal for diving and good swim.
If you would like to sleep close by, click here or if you would like to have a nice dinner in the area I recommend you 3 nice places to go: the meeting place restaurant or not far in Kalk Bay: Harbour House restaurant



Tips for the beach!

1. Use and abuse of suncream as the sun is very naughty in South Africa.
2. Try to avoid swimming alone.
3. If you wanna fish, you should go to the local post office to get a permit.
4. You can rent a surf board at Muizenberg.

From Cape Town beaches to Voila Cape Town