Green Point Stadium
Green Point Stadium is going to be THE place to be during the Soccer World Cup in June/July 2010! It is already an iconic image in South Africa.
This stadium is an amazing achievement and there is lots of meaning around it. It is located nearly right in front of Robben Island prison where Nelson Mandela has spent 26 years hoping for a better South Africa.
And Voila! 20 year later, it is hosting the next Soccer World Cup!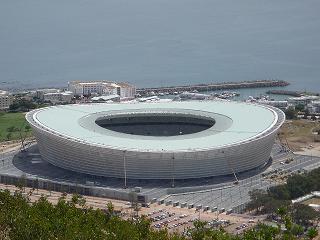 The Stadium in numbers
55,000 seaters
258m tall
R4 billion investment
Stadium height 50m
250 VIP suites
Space for 120 wheelchairs
530 toilets, 360 urinals, 270 basins
Basement parking for 1170 cars
03/2007 start of the construction
02/2010 end of the construction
This beautiful contemporary piece of architecture made of glass fibre membrane which reflects natural light is stiking from wherever you are in Green Point.
The location has been carefully chosen to be easily accessible from the city center or the Waterfront , 15 min walk.
During the Soccer World Cup 2010, I highly recommend you to plan your stay in Cape Town that you will be able to walk rather than driving because the roads are going to be a nightmare. Lots of roads will be closed which will increase traffic jam in the city center and around. Not to mention the parking which will be another headache! No really...my best advise: make good use of your legs during this period!
On match nights, there will be a Fan Walk which will start at the Grand Parade in Cape Town city centre and finish at the Stadium (1.8kms). This walk will be well secured.
---
The best places to stay close to the Stadium...
De Waterkant- charming quarter with nice European vibes where you will find lovely restaurants with terraces, cafés, courtyards...
The V&A Waterfront - tourist place with plenty of restaurants and shops.
Bo Kaap- colourful Cape Malay houses very close to De Waterkant.





From Green Point Stadium to Voila Cape Town