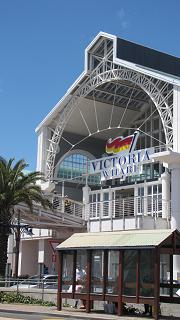 Waterfront Cape Town
Looking for information on the 'Waterfront Cape Town' and accommodation at the V&A Waterfront?
Shoppers, food lovers, sea lovers, good atmosphere enthusiasts can find what they are searching at the Victoria and Alfred Waterfront in Cape Town.
I have listed the best things to do at the V&A in order of priority, so that you can make the choice depending on the time you have!
And I have also adverted to the restaurants and accommodation that are valuable.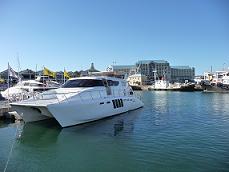 1. Sunset cruise
This is a must! I am a big fan of Tigger 2 cruises because they can go as far as Table View. This is a luxury boat and they can even arrange a private dinner on board.
However, if this is not what you have in mind, there are many other cruise possibilities . They are all waiting for you on the docks at the waterfront!


2. The Blue shed and Red shed craft markets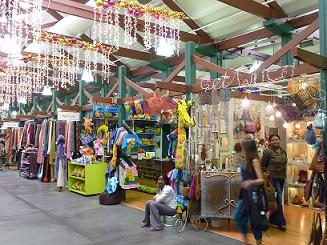 You will find interesting South African crafts at these markets which are worth to have a look at least or to bring home if you are looking for souvenirs.


3. Robben Island
You will have the benefit to see Cape Town from the sea and to visit the jail where Nelson Mandela was kept prisoner. There are different opinions about the visit of the Island… Some people like it because it's a historical and mythical place and other people say that it's just a jail and there is nothing more to see… So I'll leave it to you to decide to go or not.


4. Two Oceans Aquarium
The Aquarium is lots of fun and instructive for children.


5. Historical buildings


Walk around and have a look at all beautiful historical buildings around the Waterfront such as the Clock Tower, the Time Ball Tower, the Dragon Tree, the Robben Island Embarkation building, Breakwater Prison, Chavronnes Battery…


6. Big fat seals!
A colony of Cape fur seals are 'showing off' every day on the seal landing in the Clock Tower Precinct next to the original Bertie's Landing Restaurant, on old tyres lining the quaysides around the Waterfront and they are also particularly easy to see in front of the Victoria and Alfred Hotel next to Den Anker restaurant.


7. Raise a glass to Table Mountain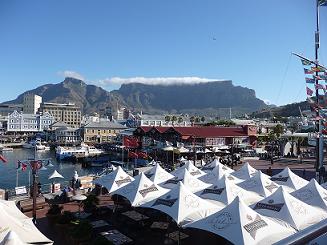 The view of Table Mountain is stunning from the Waterfront Cape Town so take the time to sit down at one of the 1st floor places such as Meloncino to enjoy a glass of wine or a coffee in front of the exquisite landscape.


8. Restaurants wise…
There are numerous places to eat at the Waterfront Cape Town depending on what you feel like. Well, these are my recommendations to you, if I were you I would go to Sevruga or Willoughby and Co for sushis or seafood, Belthazar for meat lovers, Salero for tapas, Maze at One & Only Hotel for food and wine pairing and Shoreline Cafe at the Two Ocean Aquarium as a family.


9. Places to stay
The Waterfront Cape Town attracts lots of tourists and for that reason there are many hotels around the V&A. Some offer better service than others and on this note, I would like to recommend you the ones where you will be definitely happy.
First, I am so excited by the recent opening of the One & Only Cape Town.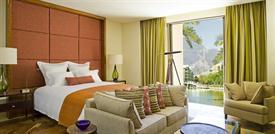 This is the type of hotel which was missing in the city. It distinguishes from others by its style and the excellence of services especially with oversized marble bathrooms with rain shower and separate bath in the units and the exclusive island spa.
Another great option is the Dock House.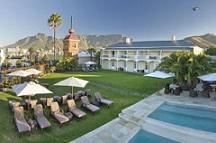 This boutique hotel built in 1800's, with a classic décor is the perfect place to spend a romantic and relaxing time.
It's an intimate hotel with 6 rooms and mini suites which allows for excellent personalized service.


Now if you are on business, I would advise you to rather stay at The Harbour Bridge Hotel and Suites , which is modern with a more business feel. It's also more central if you need to go to the city center.





From Waterfront Cape Town to Best Places in Cape Town From Waterfront Cape Town to Voila Cape Town