Cape Quarter
I can still remember how exciting it was, when the Cape Quarter opened at De Waterkant a few years ago! For me, it was like a place to go to remind me of France with its small village atmosphere, narrow streets, charming cafés with terraces and beautiful Cape Malay cottages with their roof pools...So unique!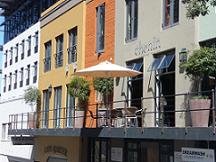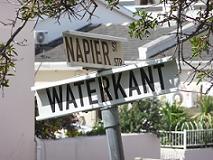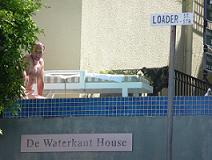 It's even at one of those cafés with a French name, 'La Petite Tarte', that I have met my husband for the first time!
Now, in November 2009, a new extension with more restaurants, coffee places and shops has opened and it is adding a new dimension to the old Cape Quarter.
What makes this place so special is a European feel within a unique Cape Malay architecture style.
The number of nice restaurants and coffee places is impressive and it would justify a few days stay in De Waterkant to enjoy the outdoor eateries and the Home décor, art and artefacts, fashion and lifestyle stores, during the day and the trendy restaurants, bars and night clubs at night.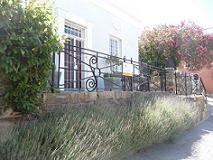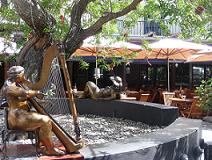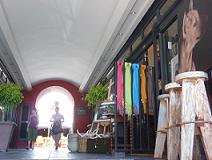 ---

What to do...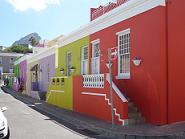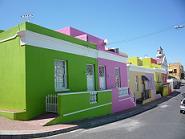 Right next door to the Cape Quarter, there is Bo Kaap which is the Cape Malay quarter of Cape Town.
You should explore it during a nice sunny afternoon as you will have a great time to take beautiful pictures of the colourful houses.
Another nice way to explore Bo-Kaap is the Andulela's Cape Malay Cooking Safari is a truly special Cape experience where you will discover traditional culture through a guided walking tour of the historical Bo-Kaap and a full course traditional Cape Malay meal.
To complete your visit, (if you have not opted for the cooking safari with Andulela) Bo Kaap museum (9.30am-4.30pm Mon-Sat)gives some insight into the history and lifestyle of people of the Bo Kaap.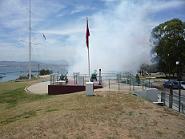 The Noon Gun, a cannon detonates every day (except Sunday and public holidays) at 12 pm all over town and when you work, you know that it is lunch time soon!

This tradition originated so that ships which had been at sea and lost track of the correct time could re-set their clocks. Even quite far out at sea they could hear the sound, and if not, they would still see the puff of smoke and could work it out from there.

You can walk there...take Longmarket street and keep going (up!) until it ends and so you should also take a bottle of water and a cap with you.
Outside Cape Quarter, there are plenty of things to do: go and see the wildlife , bring your adrenaline up with some adventure trips and calm down with romantic time.

---

Where to Shop...
There are plenty great style shops in the new and the old Cape Quarter. For Home Décor, I advise you to go to Africa Nova where you will find ceramics, African textiles, fine art... Carol Nevin also sells beautiful table clothes made in Cape Town. Nap living offers a selection of natural products such as charcoal and white felt throws, lamps made of wood...
Looking for jewelleries? You should definitely go to ANPA Jewels or for different styles, you should click here. For clothing, I am absolutely mad of Big Blue , they sell 'contemporary african style' and vintage clothing or Cigar which offers more classical style clothing.
For more information on shopping, you should check the Cape Quarter website.

---
Where to Eat and Drink...
For breakfast, I would recommend you to go to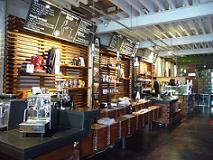 Origin coffee which sells one of the best coffee in Cape Town to be enjoyed with one of their nice muffins or bagels.
If you are more a tea drinker, you should hit for Nigiro Tea which is actually part of the same building than Origin Coffee.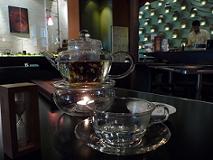 Their selection of teas is impressive and the zen atmosphere is just perfect to start the day in a relaxed way.
My favourite teas are the 'Pinacolada' and the 'Strawberry and Kiwi'.


For lunch,
La Petite Tarte is just perfect for a nice quiche or salad and another great option is the Loading Bay for delicious Lebanese tapas.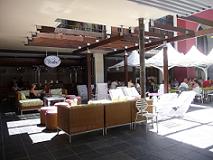 If you feel for something more consistent, you should go to Voila! (funny they have the same name than my website!!!).
They serve various meals from pastas to meats...all nice quality!



For dinner,
I definitely advise you to have a delicious italian dish-have a bite for me!- at Il Leone . I would go there anytime! This is the type of Italian restaurant you don't want to miss...This is fine Italian cuisine.
Another great place to go for dinner is the Tank Restaurant or Beluga , both restaurants serve yummy sushis and other seafood delights.
If you are looking for a more diverse selection of dishes, Vanilla is a nice restaurant where I advise you to eat outside if the weather is nice or otherwise inside against their wall full of stars, it is very romantic.
Now, I would like to recommend you other amazing restaurants in and around Cape Town.
---

Where to Stay...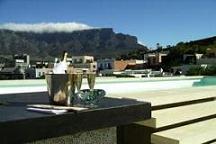 The Village Lodge This guest lodge is right in the heart of De Waterkant Village which is so convenient to explore the lovely Cape Quarter and its surroundings.
And after a nice time in the village, the rooftop pool with panoramic views of Cape Town is definitely the perfect spot to relax!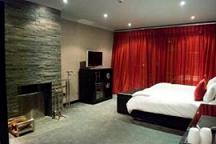 Sugar Hotel This luxury small contemporary hotel is very close (10min) to the Cape Quarter, the Green Point World up Soccer Stadium and the V&A Waterfront.
It is a very chic and stylish hotel with spacious rooms.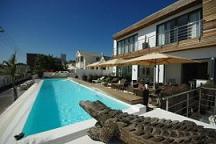 DysArt Guest House
My favourite!!! This 5 stars hotel is outstanding! Also very close to De Waterkant and the V&A Waterfront, it is such a great place to stay.
It has so much character: each bedroom has a patio or a private balcony, the swimming pool is long enough to have a nice swim, the living room has a very relaxing atmosphere...

---
CAPE QUARTER PHOTO DIAPORAMA
From Cape Quarter to Best Places in Cape Town From Cape Town Quarter to Voila Cape Town