Week end away in Wilderness, South Africa
Escape to Wilderness
Week end away in Wilderness is the best to disconnect!
It takes 6 hours from Cape Town to drive to Wilderness, a serene place where time does not count because nature takes all its magic! Once you are in Wilderness, the best way is to respect the rhythm of the sun: go to bed not long after the sun goes down and wake up when it rises (and not after!). This will allow you to enjoy all the beauty and activities to be done around here and even within 2 days!
My favourite place to stay without a doubt is Serendipity guest house - the perfect name chosen for this place. Imagine...in the middle of luxuriant trees so thick that you can't almost see the house itself and at its foot a big and quiet river. I advise you to arrive in the afternoon, leave your luggages and your stress- if you have any- in your room and then start to enjoy the surrounding!
1st day (ideally Friday) of your week end away in Wilderness
This is what I would do if I were you (after experiencing myself!)...
Go for a walk on Wilderness beach to refresh your mind and enjoy a sun downer with a glass of wine at Views restaurant. By that time, you'll already be in another state of mind!
To finish of this beautiful afternoon, go and lick your fingers at Girls restaurant with a big platter of prawns. Then you'll be ready for your first good night at Serendipity!

2nd day of your week end away in Wilderness
The next morning, the sun will be knocking on your windows so wrap yourself in one of the softest bathrobe and cover that you'll probably ever tested before (!) and enjoy the peaceful river watching the birds in silence, a good book with a cup of roobois tea and a piece of chocolate (all from your room).
This moment is a "mise en bouche" before the delicious breakfast that will be waiting for you, note that each meal you'll have at Serendipity will be different every day, with a pleasant conversation with one of the family members.
With peace of mind and a content stomach, you can hit the road- not far though as there are many things you can do close by! If by any chance you are around on Saturday, your first stop should be the Farmers market in Sedgefield, plan around 2 hours there and more if you decide to have a bite there or go for a picnic in the National Park!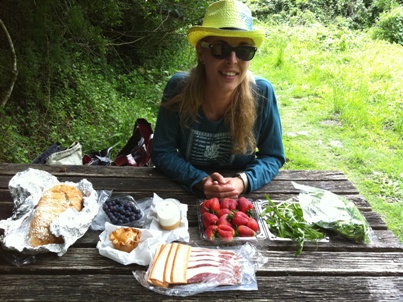 And because life can't be only about food (!), there are various ways to do a bit of sport around here: a walk to a waterfall in the nature reserve, paragliding or if you are a horse rider then definitely a 3 hours ride to a waterfall! And actually on the way you could stop to Woodville Big Tree which over 800 years old!
Black horse trails offer amazing rides, very professional, actually this was the most professional ride I have ever done in South Africa! Paul, the guide is very knowledgeable and takes the time to advise each person how to feel more comfortable and improve their trotting and countering. And the best of the best is when you like riding like me, it is awesome to be able to counter as often as possible. During these 3 hours, you'll cross 3 different types of forests (the eucalyptus forest, the National park forest and the indigenous one) and also have a stopover at the waterfall with cool drinks. Very cool!
The dinner will be as special as this day you just spent! Elsabe welcomes you in the lounge with sparkling wine, before Liesl, her daughter and the chef, explains in details how each meal is prepared- don't be surprised to have water in your mouth and to have a hard moment to decide which dish to order (Gravlax salmon with strawberries or the venison trio?, the deconstructed springbok shank or the sweet potatoes gnocchis?)! One sure thing, everything is a delicacy here and whatever your order, you'll be very happy!
3nd day of your week end away in Wilderness
After another delicious breakfast (the worry about your weight will have to be postponed to the next day!), drive for 1 hour to do the experience of a lifetime: a walk with white lions for 1 hour at Zorgfontein.The lions walk in total freedom next to you and obviously a few 'lion whispering' guides.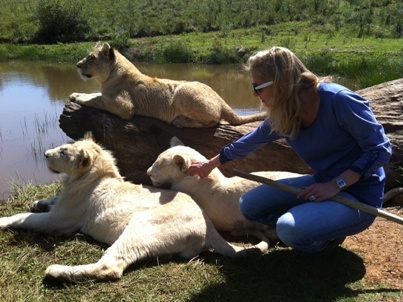 You learn as much by observing the lions as by listening to the guides. For example, did you know that lions can climb high up the trees?!
You'll even be able to touch them! As much as it sounds unreal, it is possible!
You should then drive to Botlierskop's main lodge for elephant feeding or even picnic with elephants! This is your day with wildlife! There is also a nice spa, to spoil yourself and just 'digest' all experiences you had.
Back to Serendipity, grab a canoe and go for paddle on the river. If you are fit, you can even push upstream into the National park to feel almost alone in this world! While the canoe cuts though the water, you admire the beautiful nature all around you. Don't forget to take two glasses and a bottle of wine to enjoy this special moment...(and a corkscrew!) Cheers to life!
And my suggestion for a cosy meat lover dinner close the the fireplace is to go to Zucchini restaurant where the saddles as chairs bar will remind you of yesterday and finish your week end away in Wilderness with a happy end!
From week end away in Wilderness to Voila Cape Town homepage