Private cooking lessons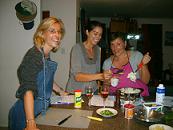 Nikki gives private cooking lessons at her cosy place where you will feel lik at home but with an expert behind your back whispering you advices!
I have done with 2 friends of mine. We arrived at Nikki's place at 18h00 with in our bags 1 pen, 1 camera, 1 apron and...a tupperware to take home the left over! Yeah!
All ingredients were waiting for us in a corner of the kitchen and so we started! We did 6 courses within 4 hours.

All of us around the stove and the kitchen counter to make at the same time:



A yummy foccacio to be served with very tasty mussels with lemon grass


A pastry capped cream of tomato soup





Tuna steaks with wholegrain mustard crust and wasabi mashed potato and for the dessert, ruby pears with duo of sauces.
After cooking, we all shared these nice and very filling dishes! We were so glad to have followed Nikki's advice regarding the Tupperwares!!!
We left Nikki's kitchen and table at 23h00 with happy stomachs and ready to sleep!





From Private Cooking Lessons to Voila Cape Town Homepage