Organic Food Markets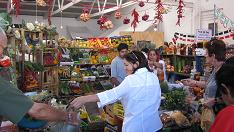 Organic Food Markets became very popular for the past years and with popularity comes greater choice! My favourite organic marketin Cape Town is still Old Biscuit Mill which was actually the first one to start. The place where it takes place is an old mill which is now the place to be in Salt River (10min drivefrom Cape Town) every Saturday morning from 9am to 2pm. I advise you to arrive early because everybody seems to enjoy the market to shop and eat! It is indeed very pleasant to eat what you shop on the tables which are righ in the middle of the market. You will find ready to eat meals and other delicious produces to take home such as organic vegetables and fruits, dry sausages, pates, homemade tapenade... The vibe is unbelievable and unique at the Old Mill so the best can advise you is to pop around and experiment it!
Another favorite of mine is Porters Market in Tokai which takes place in Tokai's forest , every Saurday mornings. The environment is very organic so you feel definitely at the right place to buy organic products! There are lots of farmers with stands and the food looks so good and fresh that you nearly want to buy it all. This is also a great place for kids who can play around.