Kitchen Angel Cooking Classes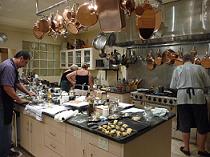 I did not really know what to expect when I booked myself for a cooking course with Kitchen Angel. I really struggled to make up my mind to decide which course to attend... all choices were tempting! The Kitchen Confidence course? Italian course? China Cook Tour? Mmmmh... After a ripe reflection (!), I decided to attend the China Cook Tour course.
The course started at 19h with a glass of wine in Lynn Angel's beautiful kitchen full of equipments that I wished I had at home if only my kitchen was big enough to have them all!!
The course normally brings up to 10 people together but we were 4 students only which was prefect to learn more. Lynn gave us an introduction on Chinese food and the most common ingredients used in Chinese cuisine and where to find them in Cape Town. Then, we read through a booklet with the 6 recipes we will be making. Each person had to choose one recipe to make and once we all understood what the recipes were all about and with Line's recommendations, we cooked at our 'cooking station' where the ingredients with the right proportions were waiting for us.
I experimented the Sichuan Fireball Dumplings! Yeah! I love dumplings and I am so glad that I got to cook them! Now I am able to make them a home...! Lynn dressed a beautiful table with Chinese ceramics and we all shared our dishes cooked with love and care!
This was a lovely evening, filled with good food and joy!
I am looking forward to attending the next course 'Kitchen Confidence' where Line teaches you how to cook with all your senses and also, helps to save you great time in the kitchen with the whispers of Kitchen Angel!