A Lovely Gold Heart Pendant Necklace from Cape Town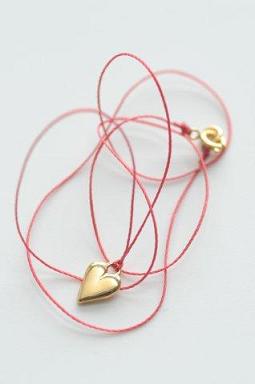 Caera is a film industry professional by trade - a make up artist.
She loves life and loves the magic that wispers to us constantly if we are willing to listen. She believes in healing and in an amazing future for this planet.
"The heart is a universal symbol of love and so resonates with our subconscious minds. The mascot of the project is a 24 krt gold dipped heart on a silk thread* that can be worn always. I believe that we can change the world if we all reconnect with our centers: heart centers that is."
*silk thread exists in red, pink chocolate, beige, grey, turquoise, lilac, white, black, deep yellow, deep blue, dark green
Gold Heart Necklace, price R150
By creating this heart, she hopes to inspire mankind to change the world by inviting people to stop for a moment and feel the love.
When you choose to embrace your Golden Heart you are saying YES to the following- joy, laughter, friends, happiness, mircles, health, sunlight, warmth, smiles, authenticity, communication, caring, togetherness...
Its a simple design and an even simpler concept, however the challenge is in actually taking responsibility for our energy output. As a collective we add our bit to the greater experience of this world, so let's make it a good bit!
The little seed of love sits around your neck and keeps you company through out your day. It serves as a reminder that we have a choice to act from a place of compassion in each moment.
Although not a charity she happily gives 30% of their net profits to various causes and projects that deserve support. Often the smaller ones. A project that has her attention at the moment: Bulelani Creche. When they have their premises she will be sponsoring a vegie garden so that the school can be sustainable and a source of education for the kids.
Wear your gold heart pendant necklace everyday...
When it wears off send your love into the world!
If you are interested in buying the gold heart pendant necklace, order it on
From Gold Heart Pendant Necklace to Voila Cape Town