Find a funky and lovely restaurant to go out with your friends!
When I go out with my friends, I like to go to a place where there will be good food, good vibes and good wine of course! I have selected nice places where you'll have a combination os those!



THE MEETING PLACE Add: 98 St Georges Street Simon's Town Tel: 021 786 1986 Type of cooking: Mediterranean Website:no
I love: - The view from the terrace where you see Simons Town's harbour - The lovely earthy buffet for lunchMMMMH! - The very cosy sofas where you can relax where you can relax after eating


IL LEONE Add: 22 Cobern Street, corner of Prestwich Street Tel: 021 421 0071 Type of cooking: Italian Website: none

I love: - The 3 cheese pastas! Mama mia! If you like cheeses, you will remember it! - The old and beautiful wooden floor and windows which are from the 18th century!C'est beau! - Funky atmosphere



95 KEEROM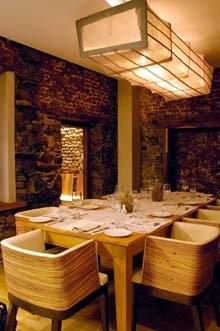 Add: 95 Keerom street, Cape Tel: 021 422 0765 Type of cooking: Italian Website: http://95keeromstreet.lagazzettadelsudafrica.net/
I love: - To book big table upstairs to sit a nice group of friends! - Nice and stylish decoration - The fish carpaccio for starter and the chocolate bomb for dessert! Miam!



GINJA Add: 121 Castle street, Cape Town Tel: 021 426 2368 Type of cooking: Contemporary, Fusion Website: none

I love: - Amazing food! - Beautiful presentation of dishes - The big plates where the food is served. Impressionant! - The decoration of the restaurant: red, black & white and gold in the toilet!



YUM Add: 2 Deer Park Drive, Vredehoek Tel: 021 461 7607 Type of cooking: Classy Bistro, Contemporary Website: none

I love: - The breakfast menu! - The forks, spoons on the wall - The proximity of Deer Park where you can walk after the breakfast to digest!
From Eat out with your friends to Voila Cape Town