Eat out for a special event...Make your birthday or any other event even more special!
Would you like to eat out for a special event? Well, you should add something special to the evening with a belly dancer dancing in front of you while you eat mezes or eat pastas and sing italian songs with your friends or have a Tanzanian food experience together or why not go to a French cooking class and eat what you cooked?!
Eat out for a special event and remember it for a long time after... that what you should be aiming for! Well, I would like to suggest you a few places in Cape Town where you could organise such an event.



ANATOLI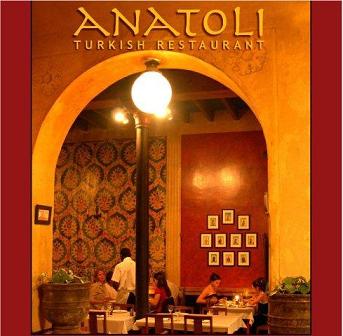 Add: 24 Napier street Tel: 021 419 2501 Type of cooking: Turkish Website: www.anatoli.co.za
I love: - The mezes you can share with your friends. Vive le partage! - The 2 large rooms which can be hired together or separately. Why don't you take advantage of the place to organise a Turkish theme party?!


LA MASSERIA Add: Corner Bluegum and Huguenot Streets, Eversdal, Durbanville Tel: 021 976 0036 Type of cooking: Italian home style Website: www.lamasseria.co.za
I love: - The unforgettable atmosphere with Italian songs that you will sing together with the owner of the place and its accordion! Youpi! - The great buffet of anti pasti and the nice selection of pastas - The 100 seaters in the restaurant which can allow to invite lots of friends for a special event! - You can even organise a cooking lesson with your friends and eat what you've cooked afterwards! - And don't forget to browse at the deli before eating and above all before going back home! They sell delicous italian specialities. I highly recommend THE Fromagio Duetto Dolce...Un régal!


ADDIS IN CAPE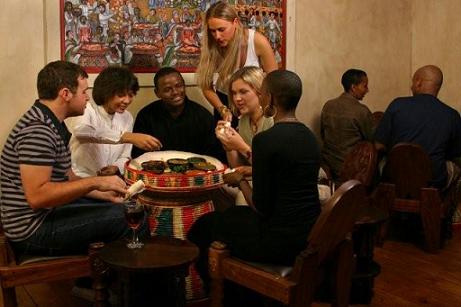 Add: 41 Church street. Cnr of Long street and Chruch street, Central Cape Town Tel: 021 424 5722 Type of cooking: Ethiopian Website: www.addisincape.co.za
I love: - The typical Ethiopian way of eating! You will seat on low wooden chairs around a small table where they will place a big pancake that you will share with your fellows to collect the food with it! - The nice African style food and the coffee! Un café, s'il-vous-plait! - The sharing part of the meal with friends. They can seat up to 60 people upstairs


TONG LOK Add: Parklands Centre, Link Road, Parklands Tel: 021 556 8722 Type of cooking: Chinese Website: www.tonglok.co.za
I love: - The set menu (great food and lots of food!!!) for 10 persons at R1000 - The big room with Chinese vases around that you can book for the evening. It can seat up to 60 people


BUKHARA Add: 33 Church Street, City Bowl Tel: 021 424 0000 Type of cooking: Indian Website: www.bukhara.com
I love: - To share the various delicious dishes between my friends - To eat the yummy nans meaning no use of forks and knifes! Authentique! - That the restaurant can seat 250 people. Be aware of the noise it can make! - Take this opportunity to organise a Indian theme party


PIGALLE Add:57 Somerset Road, Green Point Tel: 021 421 4848 Type of cooking: Mediterranean Website: www.pigallerestaurants.co.za
I love: - To book a big table with friends and digest on the dance floor! - To wear 1930's clothes with my friends and have a fun evening!
Eat out for a special event and include in your dish a salad of fun, good talk, positive emotions and smiles! Enjoy it!



From Eat out for a special event to Voila Cape Town