Cape Town Long Street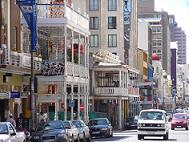 Cape Town Long Street: one of the main street of the city
I remember the first time I have been to Cape Town I was looking for the city centre and someone told me that it is actually mainly Long street, Kloof street and a few streets around!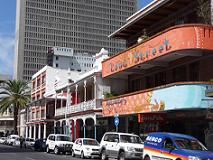 What's amazing about Cape Town Long street is the unique atmosphere. It is a straight one way long street- the name could have not been better!- of more than 20 blocks (3.9 kilometres), leading to Kloof street where antique shops and streetwear boutiques, restaurants, bars, clubs make the tourists happy!


The Victorian-era buildings with wrought-iron balconies are beautiful and most of them have been converted into backpakers.
I let you imagine the ambience at night! It is groovy, dude!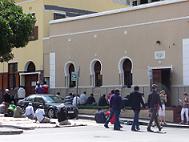 And amongst this kind of hippie vibe, you'll find several old mosques (Noor el Hameida Mosque dated from 1884) as Cape Town Long Street once formed the border of the Muslim Bo-Kaap. Another surprising thing about Cape Town Long Street is the shop windows which are pretty much blank and when you enter any buildings, you are most of the time surprised of the size of the place!
---

What to do...
Long street could easily take you a whole day to explore at a leisurely pace.
Pamper yourself at...


Long Street Baths
It is a city centre institution since 1929! It is a must do, just for the experience! Inside is a heated swimming pool, changing rooms and Turkish steam baths with dry-heat rooms. And I really advise you to book a massage afterwards. Women are admitted 8.30am to 7pm Monday and Thursday, 9am to 6pm Saturday and men 1pm to 7pm Tuesday, 9am to 7pm Wednesday and Friday and 8am to noon Sunday.
Another great place to relax is Happy Feet where you can have reflexology. And guess what?! You can do it even after a good dinner as they are opened until 11pm! It is also fun to do with friends in the same room!


Second hand bookshops!
The Long street Bookshop sells second hand books which can be real treasures! For example, in the past, I have found books about Cape Town in the 1900s...so nice!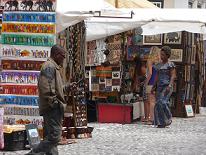 Greenmarket square
It is an African market where you will find lots of souvenirs to take home! If you are looking for better quality masks, sculptures, etc., I advise you to go to the Pan African market and don't forget to negociate the price!
Bead Merchants of Africa
This is a dream place if you like to create!
They have an enormous selection of beads that will make your imagination go crazy to the point of sticking beads to your car like the Bead shop's owner did!



Get some beads for fun and your beard sorted out in Cape Town Long Street!...
Barnet Fair Barber Shop
This is the opportunity of a lifetime to go to a genuine barber, offering traditional hot towel shaves, head shaves, beard maintenance and haircuts.


Pink Flamingo Rooftop Cinema
Watch a movie like in the old days! This 35 seater cinema plays movies outside on the rooftop of the Grand Daddy hotel in the middle of seven very well designed vintage Airstream trailers- that you can rent for accommodation! Check the forthcoming movies on Pink Flamingo Cinema.


The Labia Theatre
It is a bit off Long street but I have to let you know about this place! It is my favourite cinema because it is a genuine one! A cinema with a real counter, tickets are still like the old ones, it is a small and intimate cinema where you can even bring a glass of wine in! Awesome! Labia 68 Orange St, Gardens www.labia.co.za

For more ideas of what to do in Cape Town, I invite you to check on my cheap travel packages page.

---

Where to eat and drink...
There are plenty of places to eat and drink in Long Street and for any type of budgets. These are my favourite fine cuisine restaurants around Long Street:
Bizerca is a reputable restaurant in Cape Town which will please your palate, I can assure you! You will find divine food combination such as braised pig's trotter with seared scallop and truffle oil, grilled ostrich fillet with celeriac puree spinach crispy sweet pot and blue berry sauce or Raw Norwegian Salmon Salad with goat cheese, soy ginger and échalote dressing. Bon Appétit!
95 Keerom which originally originally housed the stables and slave quarters of the Company Gardens has become a very well known italian style restaurant
Carne SA will make the meat lover more than happy with a choice of delicious South African meat such as mixed game skewer, ostrich, kudu and black wildebeest, ork neck braised in milk with cannelini bean puree and sauteed spinach or oven baked ostrich lasagne.

---

Where to sleep...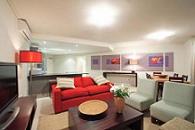 FlatRocks Suites
Each suite looks like a flat where you will feel at home. It is right in the vibey Long Street where you can party and it i th perfect place to relax as all bedrooms have soundproof windows, open-plan and dining area. You should book one of the suite with views on Table Mountain.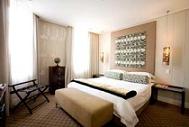 The Grand Daddy
This 4-star hotel is also very well located, right in Long Street, close to Greenmarket Square. The hotel and bedrooms combine old, authentic Georgian features with modern furnishings which make an unique style. Also, as an alternative and original option, you should consider the vintage Airstream trailers...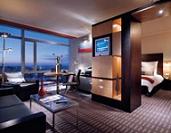 The Westin Arabella Sheraton Hotel
This hotel is stunning. The rooms are spacious and bright. It is at the bottom of Long Street which makes you closer to the Waterfront. You should pamper yourself at the spa and the gym which both have an incredible view. And I believe their breakfast is also very good...


---
LONG STREET PHOTO DIAPORAMA
From Cape Town Long Street to Best Places in Cape Town From Cape Town Long Street to Voila Cape Town