Picnic in Cape Town
Picnic in Cape Town is one of the local's favourite thing to do after work and on weekends.

Between the beaches, the mountains, the country side and the beautiful weather, Cape Town is an ideal place to picnic! You even have the choice to buy yummy picnic basket at certain wine estates and enjoy your lunch on the grass at their place or you can ask some delis who can arrange it for you or you can do it yourself! Picnic is almost as famous as braais (barbecue) in South Africa! We even have a National Picnic day on the 31 of October! Therefore it's as easy to find marinated meat for braai and plenty of products in supermarkets which will be so convenient for picnic (chopped raw vegetables to use with dips, wraps, salads…).
Picnic in Cape Town in a Wine Estate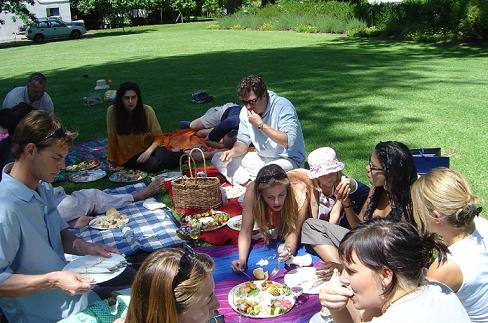 What's better than having a picnic surrounded by beautiful Nature after a nice wine tasting (please remember no wine tastings on Sundays in South Africa)? I've done it a few times and each time it's so relaxing to spend lunch time first sitting and soon lying on the grass!
My favourite wine estates are Buitenverwachting , Groot Constantia in Constantia and Vergelegen. They offer generous hamper filled with pâtés, cheeses, bread, salads,to dip into while enjoying the green surroundings… Just what you need to make you happy!
I also like to go to Joostenberg or Spier in Stellenbosch which have deli shops where you can buy everything you need to compose your picnic and good news they also have superb spots where you can throw a blanket and eat!
The last wine estate I have experienced is Warwick wine estate It's a very romantic place where you comfortably lie down against a huge pillow while watching the ducks having fun on the pond in front of you! After the picnic you can enjoy the Big 5 wine safari where you'll discover the 'Big 5' grape varieties as you drive through the vineyard on a Land Rover Safari vehicle.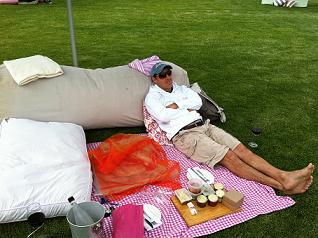 Picnic in Cape Town from a catering company
Sometimes I feel like going for picnic but I don't have the time to prepare it and I don't feel like going shopping so a simple call phone et voilà! Picnic company can arrange it for you… They have theme picnics: Parisian picnic, Lover's picnic, District Six picnic, Mom and Tot's picnic, Breakfast picnic and the must is the 'Once in a lifetime picnic'…Enjoy it!
By the way, maybe you already know but I give French cooking classes in Cape Town and so sometimes clients also ask me to organise a French picnic at a specific place with a beautiful setting. Depending on the event, I will arrange a menu accordingly. For example, if it's a romantic picnic for a birthday, I will organize a nice blanket with roses, a bottle of wine, a birthday cake and a special menu based on what you like. The menu could include a summer cake with pesto, savoury madeleines with baby marrow and chorizo, fresh bread, rillette with tuna and basil, a camembert and a apple, banana and tea Compote.
Picnic in Cape Town on the beach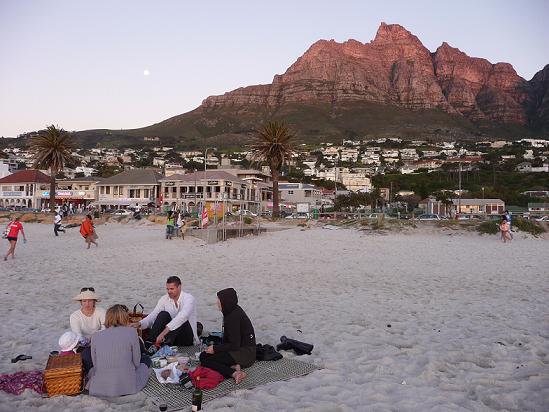 After work, in summer, for the sunset, one of the favourite end of the day activity for people living in Cape Town is meeting friends for a picnic on the beach! And I'm part of them! Sometimes, it can finish late and then you see candles all over the place! It's magic! When it's windy, the best bet is Clifton beach and in a quiet day, Camps Bay is divine!

Picnic on the Mountain for a stunning view
It can sometimes take a bit of effort depending on the Mountain you choose to do it! Table Mountain, you always have the choice to take the cable car. Signal Hill, you can drive there. And Lion's Head, you'll have to make a good use of your legs but what a pleasure when you arrive at the top and see the view! There are also beautiful spots with breathtaking views on Chapman's peak drive.
Picnic on the grass
Kirstenbosch Botanical Gardens is ideal for picnic. I love finding a spot close to the river…it's so romantic if you are with your lover and it's so much fun if you are with your kids !
Either or, you'll have a great time! If you 're not comfortable sitting on the floor, I would rather advise you to go to Jonkershoek Reserve in Stellenbosch where there are wooden tables and benches.




From picnic in Cape Town to South Africa food
From picnic in Cape Town to Voila Cape Town Homepage