Cape Town International Airport
Cape Town International Airport is now refurbished and extended to existing terminal buildings to cope with the biggest percentage of passenger growth in South Africa and also to accommodate the tourists who were here for the 2010 Soccer World cup. The domestic and international departures and arrivals are at the same terminal.
It is located on the N2 highway at about 20kms from the city center. It will take you around 20 minutes off peak hours. The peak hours of traffic start around 16h so if you have to go to the airport around that time, I would rather advise you to leave before 15h30.
Although Johannesburg International Airport is the main hub for flights into and out of South Africa, most of the major airlines fly direct to Cape Town.
Transport from the airport
Taxis - taxis are available at the airport. It will cost you around R150 to go to Cape Town city center. Confirm with your driver beforehand. If you would like to book a taxi, click here.
Car Rental
All major car rental companies have branches at the airport. You can both collect and drop-off your vehicle directly at the airport. If you forgot to fill up your tank before returning the car, you can always do it at the airport. There is a petrol station at the exit.
Airport Transfer
If you have pre-booked accommodation there is a good chance that your hotel and/or hosts offer shuttle service. Make enquiries when booking your accommodation.
Shopping at the airport
The new extension has a Woolworth Food shop and other shops (Accessories, Billabong, Exclusive books, etc.) for your last minute shopping. You will even be able to take proteas back home with you. There is a florist in the duty free area that packs them carefully and especially for you to offer them to the person waiting for you on the other side.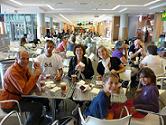 If you have a bit of time to wait, I advise you to have a coffee at Vida e Caffe in the main terminal. They do awesome cappucinos and chocolate frio (for those of you who are in lack of caffeine and magnesium!).
From Cape Town International airport to Cheap flights
From Cape Town International airport to Voila Cape Town